Professor Sambor Grucza,  Research Advisory Board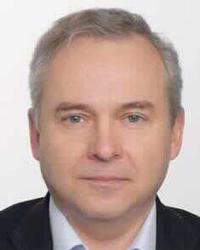 Sambor Grucza is a Professor at the University of Warsaw, Dean of Faculty of Applied Linguistics, former Director of the Institute of Specialised and Intercultural Communication, Head of the Linguistics of Languages for Specific Purposes Department, Research Head of the Eye-Tracking Experimental Linguistics Laboratory, Research Head of the Corpus Linguistic Laboratory and Research Head of the Research Center for Business Communication Audit 2008–2012 he was Dean of the Faculty of Applied Linguistics at University of Warsaw.
He is also editorial head of Lingwistyka Stosowana/ Applied Linguistics/ Angewandte Linguistik,Studi@ Naukowe, Warschauer Studien zur Germanistik und Angewandten Linguistik and a member of the editorial board of Kwartalnik Neofilologiczny, Studia Translatorica and Studien zur Deutschkunde. He is a member of several other international academic associations; President of the Polish Association of Applied Linguistics, and since 2012 an executive board member of the Polnischer Germanisten Verband. His research interests are: metalinguistics, text and discourse linguistics, translation studies, translation teaching, glottodidactics, business communication, and linguistics of languages for specific purposes. He is currently head of several international research projects. He is author of over 120 publications and co-author of 35 text books in the series "Dein Deutsch" for the study of German as a second language.
[divider top="no" anchor="#" style="default" divider_color="#ffffff" link_color="#ffffff" size="3″ margin="15″]
Professor Olena Petrashuk, Aviation English trainer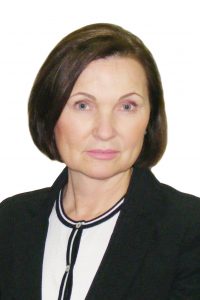 Prof. dr hab. Olena Petrashchuk has been with Aviation English since 2000, though her previous works were about special language testing and teaching. Today she is an author of nearly 100 publications most of which are dedicated to Aviation English studies. Hence, her major research interests comprise professional communication (in aviation), discourse analysis (radiotelephony communication), Aviation English test design and administration. She has four registered patents in Aviation English with the Test of English for Aviation Personnel (TEAP) among them.
In 2004-2009 she was a research supervisor and a manager of a large scale project aimed at the English language training and testing more than a thousand air traffic controllers of Ukraine to meet the new ICAO language requirements.
Prof. Olena Petrashchuk works for the University of Warsaw (Faculty of Applied Linguistics) and the National Aviation University (Aviation English Department of Air Navigation Institute, Kyiv).
[divider top="no" anchor="#" style="default" divider_color="#ffffff" link_color="#ffffff" size="3″ margin="15″]
Dr hab. Anna Borowska,  Associate Professor, Aviation English researcher
Head of ACRC
a.borowska@uw.edu.pl

Dr hab. Anna Borowska is an associate professor at the Institute of Specialised and Intercultural Communication, University of Warsaw. She received her Ph.D. in languages for specific purposes from University of Warsaw in 2008. She became Associate Professor in 2018. She was given a position of a seconded national expert at the European Commission in Luxembourg in the years 2013-2015
She is the author of the book Avialinguistics: The Study of Language for Aviation Purposes (2017) and the originator of a new branch of linguistics: avialinguistics that is to serve aviation purposes.
Currently, she is head of the Aviation Communication Research Centre. Her research focuses on linguistic problems of aviation verbal communication.
[divider top="no" anchor="#" style="default" divider_color="#ffffff" link_color="#ffffff" size="3″ margin="15″]
Thomas Simon, Aviation English SME, pilot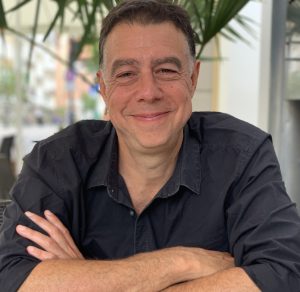 Thomas Simon is now an experienced Aviation English trainer, course and exam developer, and an examiner for ICAO LPR-based tests of English proficiency. After a long career in the United States as a professional pilot, serving as both a qualified jet captain (ATP) and Certified Flight Instructor (CFI), Thomas relocated to Europe to continue his professional development through the medium of Aviation English.
After becoming a member of ICAEA in 2009, Thomas went on to help develop AE training materials for various AE course providers, as well as deliver Aviation English training courses, in a variety of formats, around the world, eventually becoming a certified Aviation English exam rater (TEA).
Most recently Thomas was part of a small team of ESL professionals chosen to spearhead the development of a program to train and examine, to proficiency, non-English speaking Nuclear Energy professionals based on the precepts of the ICAO LPRs.
[divider top="no" anchor="#" style="default" divider_color="#ffffff" link_color="#ffffff" size="3″ margin="15″]
Adrian Enright, Aviation English expert
Adrian Enright trained as an air traffic controller in the United Kingdom with experience in all aspects of ATC before joining Eurocontrol at the Maastricht Upper Area Control Centre.
After a number of years as an instructor in ATC, management and instructional techniques at the Institute of Air navigation Services in Luxembourg Adrian became the project leader for the development of language proficiency tests for air traffic controllers that culminated in Eurocontrol's ELPAC test (2007).
Adrian was a founder member of ICAO's PRICE Study Group that developed Standards and Recommended Practices for aeronautical communication and the rating scale and holistic descriptors for ICAO Language Proficiency Requirements (LPRs).
Adrian is a Vice-President of ICAEA (International Civil Aviation English Association – http://www.icaea.aero) and runs his own consultancy service for aeronautical and maritime communications, LPRAssist (http://www.lprassist.com).
[divider top="no" anchor="#" style="default" divider_color="#ffffff" link_color="#ffffff" size="3″ margin="15″]
Bożena Sławińska, Aviation English expert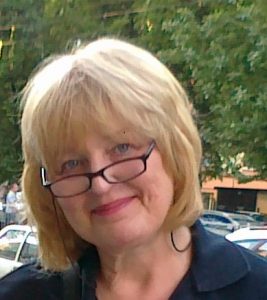 Bożena Sławinska has 36 years of experience in working for PANSA as a general and Aviation English teacher, language course organizer and developer and 23 years of cooperation with EUROCONTROL in PELA and ELPAC.
She is an examiner for student air traffic controllers,  air traffic controllers and pilots (ELPAC, RELTA), member of PRICE SG Linguistic sub-group task force preparing ICAO Language Proficiency Requirements: Rated Speech Samples CD-ROM and of the ICAEA Rated Speech Sample Training Aid panel as well as an advisor to PANSA and PCAO in LPRs implementation in Poland.
[divider top="no" anchor="#" style="default" divider_color="#ffffff" link_color="#ffffff" size="3″ margin="15″]
Dr Jacek Karpiński, Cabin crew language researcher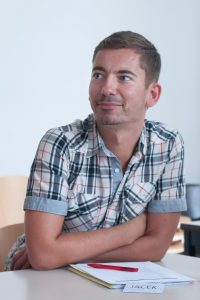 Jacek Karpiński, PhD, is an assistant professor of the Dutch language at the Erasmus Chair of Dutch Studies at the University of Wrocław and a cabin crew member of one of the Polish charter airlines. He makes use of his linguistic background and on-board work experience in his scholarly endeavours. Currently, his research focuses on the language used by cabin crew members (with a particular focus on English, Dutch, German and Polish), on-board communication and the importance of proper CRM as well as on specific communication between cabin crew members and passengers. He is also interested in the local variations of aviation language (mainly – aviation Dutch and aviation Polish) and the need to introduce aviation topics into foreign language teaching programmes.